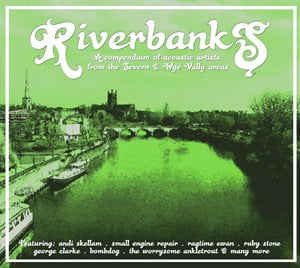 £

5.00
RELEASED 16/08/09 - Will be dispatched on or after this date.
Information:
A collection of 16 tracks from some of the very best underground acoustic artists from West Midlands. An hour of music that varies in style and delivery but never dips in quality!! ;-)

All profits from this release are being donated to The County Air Ambulance Trust.

LTD to 200 copies in a numbered card wallet.
George Clarke - Where The Grass Is Tall
The Worrisome Ankletrout - Bogwoppitt
Jimm Zorn - Traces
Ruby Stone - Jericho Lane
Andi Skellam - Chase Your Tail
Bombdog - La Lune Et La Mer
Ragtime Ewan - Henpeckers Grind
The Ragged Crows - Hares On A Mountain
Johnny Kowalski - Talking About Me
Dom Huxley - All I Got
Philip Butler etc - Rising River
Jez Mort - For Want Of A Lifeboat
Admiral Daydream & The Souvenirs - Scared Of The Dark
David Ian Roberts - Cascading
The Players - Pot Luck
Matt Woosey & The Strange Rain - Neon To Wood

Released:
Sunday August 16th 2009 - Launch gig at the Old Reciftying House in Worcester featuring 5 artists from the album